Sectional Auger Flighting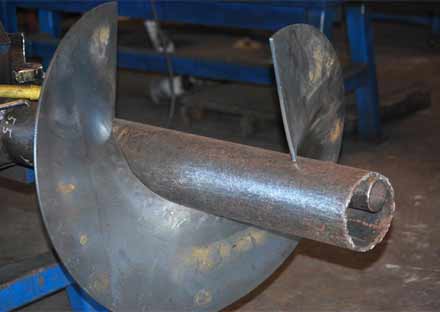 Method
Our Sectional Flighting is press-formed in individual segments. Each segment is precision cut from flat plate and then pressed to the required dimensions of the helix. Every finished segment is checked for accuracy and for ease of mounting on to its central shaft/pipe.
Features
Unlike continuous cold-rolled flighting, the raw material (steel plate) is not subjected to elongation along the outer edge of the flighting and the thickness of Sectional Flighting is therefore uniform across the width of the blade. For this reason our Sectional Flighting is preferred to rolled helicoid flighting in cases where extreme auger wear can occur - typically in the industrial bulk handling of abrasive materials.
Materials
We offer Sectional Flighting in Carbon Steels, Stainless Steels grade 304 and 316 and in Abrasion Resistant Steels AR400 and AR235.
Sizes
We carry substantial stocks of steel plate and of the most common Sectional Flight sizes. We also provide a fast turn-around for custom-made segments.