Edge-Wound Auger Flighting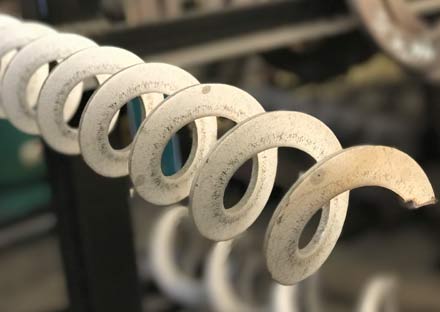 Method
Our Edge-Wound Auger Flighting is the most wear resistant flighting that can be manufactured in a continuous length. It is edge-wound on purpose-built machines using either bar stock or heavy gauge steel strip.
This forming process results in a minimal loss of thickness along the outer edge of the flighting. As our illustrations show, this flighting is ideal for conveying highly abrasive materials.
Features
Our process of forming our Edge-Wound Auger Flighting by stretching around a mandrel ensures an extremely high degree of dimensional accuracy. Raw material thicknesses can be considerably greater than is possible with conventional rolled helicoid flighting.
Our Edge-Wound Auger Flighting is used in numerous industrial conveying applications both for repairs and in original equipment where heavy and abrasive materials are being moved.
Materials
We offer Edge-Wound Auger Flighting in Carbon Steels and Stainless Steels in grades 304 and 316.
Bar stock or strip thicknesses can be up to 3/4".
Bar stock or strip widths from 1/2" up to 5"
Sizes
We hold stocks of common sizes and can custom produce in diameters ranging from 1-1/2" up to 20".
Our normal specifications included Standard Pitch, Short Pitch and Long Pitch